Have you ever tried to work out in a gym where there were pieces of equipment lying all over the place? Dumbbells rolling around, collars tucked under equipment, and you constantly stepping through a sea of attachments that cover the floor?
It's the reason I quit my last commercial gym.
Home gym organization isn't the sexiest topic but it might be the most important for maintaining your equipment and sanity.
And let's be real, you got into working out because you want to throw some iron around and get fit – not to organize and decorate.
At some point in your fitness journey, though, you're bound to discover some of the do's and don'ts of organizing your home gym.
After all, weight room etiquette is part of the gym code. You know, like:
Hang up collars on the end of the plate tree.
Re-rack your weights when you're finished.
For the love of God, don't mix different-sized weight plates on the same sleeve.
The list goes on and on, but beyond these basic rules, there are some common and some not-so-common ways to spruce things up.
Let's dig in.
7 Easy Home Gym Organization Ideas
It can seem like an anxiety-inducing task to organize your space in the beginning. Any experienced gym owner knows that a gym is NEVER truly finished. And because of this, it's important to have a plan in place.
When searching for the best home gym storage solutions for your space, it's important to think about your layout, training style, and budget.
Remember that it doesn't take an expensive or elaborate setup to organize your home gym. Simple additions can become major upgrades in terms of efficiency and aesthetics.
Home Gym Organization Benefits
You may be thinking, "I don't need this – it's only me that works out there." Well, there are some important training reasons why an organized home gym can make a big difference:
Efficiency
One of the biggest benefits of training at home is that you save valuable time – no driving to the gym and no waiting for equipment, among other things. When you have 60 minutes to work out, you don't want to spend 10 minutes looking for collars, straps, and other loose items. An organized home gym ensures you maximize your time when it comes time to actually train.
Equipment Longevity
You spend hard-earned money on equipment, right? Keeping your pieces organized goes a long way toward increasing their life expectancy, giving you a better return on your investment. For example, a properly stored barbell will live longer than a barbell that sits on the floor, getting pushed around and collecting dirt and debris.
Enjoyment
Clutter is clutter. If you can't navigate your home gym easily, it can suck the pleasure out of training at home. Whether you're looking for an old-school feel or a high-end, luxury ambiance, an organized home gym enhances your experience.
Creating a more intentional space allows you to transition between exercises, modalities, and programs with ease. In the end, isn't that what it's all about?
Here are our top 7 tips to organize your home gym:
Hang Your Accessories
The first easy way to begin organizing your home gym is to get things off the floor. Your walls are prime real estate for hanging gym accessories, and I encourage you to start there. By hanging items, you can keep them very organized while helping to prevent damage and opening up valuable floor space for performing exercises.
There's no shortage of home gym wall organizers, but there are a few we recommend. Again, getting organized doesn't have to be an expensive effort. I would rather you save your money for that brand new specialty bar you've been wanting. But remember, if you aren't taking care of your existing equipment, you might spend more money in the long run.
Wall Control
Pegboards are an ideal tool for home gym organization. I use Pegboards in my own home gym because they're very versatile, they can evolve as my equipment changes, and they're nice-looking.
With a pegboard, especially from Wall Control, you can buy the necessary attachments and hooks based on your equipment. As your home gym grows, you can simply buy more attachments and move things around as needed.
Another benefit of Wall Control is they're made of steel, and each panel can hold 200lbs. With several standard color options and customization available, you can find something that perfectly matches your gym scheme.
Rogue Multi-Use Hanger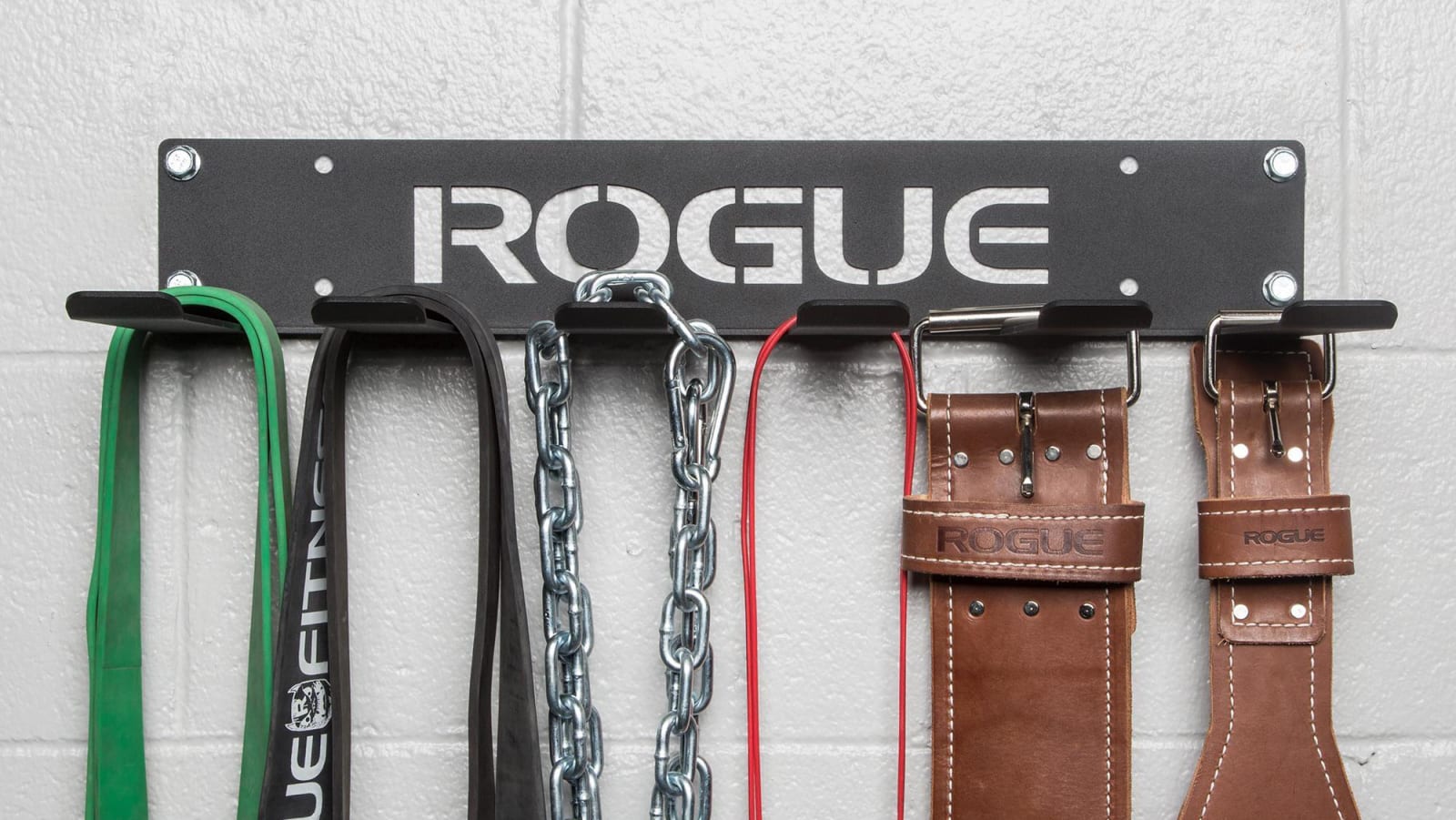 Getting organized doesn't always mean dropping a lot of money for it. A great example of this is the Rogue multi-use hanger. Its simple design gives you six hangers for storing jump ropes, bands, lifting belts, chains, and more.
Because it's a low price point to start, it's a great entry into getting your gym organized quickly with a strong brand name behind it. The hanger includes holes for standard stud spacing – either 16″ or 24″ on center.
On-Rack Storage Hooks
On-rack storage hooks are another great option. This is a very affordable route that can be set up in several ways to organize many items. Bands, chains, jump ropes, etc… are all strong candidates for this storage style.
Stray Dog Strength makes a solid rack attachment for less than $10. Like Wall Control, you can quickly and easily move these hooks based on your equipment and needs.
Use code "GGL10" to save 10% off anything at Stray Dog, including these hooks.
Organize your Barbells
The barbell is one of the most fundamental pieces of equipment in your gym, and it should be a priority to make sure your investment gets taken care of. When left on the ground, barbells can more easily collect dust and debris inside the collar, impacting their performance. Additionally, they're most susceptible to moisture and general damage when on the floor.
If you own multiple barbells, it can make your life a lot easier because you can bring them to your rack only as you need them. If you store your bars directly on your rack, you may find yourself shuffling things around more than you need to.
RELATED: Best Barbells
Fortunately, there are several options for organizing your barbells so you can protect your investment while simultaneously cleaning up your gym.
Horizontal Bar Storage
If you own three or more traditional barbells, horizontal bar storage might be your best option. Not only does horizontal storage keep your barbells neatly organized, but it also creates a professional look in your gym.
The compact design of horizontal storage can let you store from 3 to 9 barbells on a single rack. The only downside of this type of setup is that some specialty bars, like trap bars and safety squat bars, won't fit properly.
A popular horizontal storage option is the Rogue Gun Rack, which can be purchased as 3-bar or 6-bar holders. They can be bought with or without a UHMW lining, but I highly recommend the UHMW since it greatly helps protect your barbell's finish.
Vertical Bar Holders
Vertical bar storage is a great option if you own a mix of traditional bars and specialty bars. The most common floor unit is a 9-bar holder that takes up only 24″x24″ of floor space. Look for holders that include UHMW inside of each tube to ensure you're protecting your barbell sleeves. Additionally, check out the Abmat Barbell Pillows – these sit at the bottom of the tubes to protect your end caps and greatly diminish noise.
The issue most people run into with vertical bar storage is it can be awkward to remove the bars. Lifting bars anywhere between 45-75lbs in a vertical manner isn't as natural as you might think. Still, there's enough space between the tubes to ensure you can fit a variety of bars, which is the biggest benefit of this type of solution.
Our recommendation for a high-quality and budget-friendly option is the Titan 9-Bar Holder.
Garage & Bicycle Hooks
It's true – you don't need anything fancy for your barbell storage. When it comes to specialty bars, in particular, garage hooks and bike hooks can be great options.
You can use these hooks to organize traditional or specialty bars, and set them up in several ways. One of the most underutilized areas in home gyms (especially in unfinished basements and open-ceiling garages) is in between the ceiling joists. By using hooks, you can make actual use of this otherwise dead space, efficiently organizing your barbells in the process.
Of course, you can also use these in the studs of your walls just as effectively. I specifically use bike hooks in my gym to store my Transformer Bar, and they do a great job no matter what setting the bar is in.
Organize Your Plates
Organizing your plates will keep your workouts streamlined and greatly enhance the overall look of your home gym. Rather than searching all over for the right pair of weights or trying to pry a flat 45 lb plate off the ground, store them for max efficiency.
There are a few different types of plate organizers, each with pros and cons. Vertical plate trees, horizontal plate racks, and on-rack plate storage are all great options depending on your preferences and needs.
Plate Tree
The most traditional plate storage option is the plate tree. This can be an easy addition because it takes up a very small footprint, and you can organize your plates according to weight and type.
Plate trees can vary in specs, but the most important thing to consider is load capacity, which you determine by sleeve length. We recommend the Rogue Plate Tree because it has longer sleeves than most at 12″. This tree also includes optional wheels and even vertical barbell storage.
Horizontal Plate Rack
For Olympic lifters, horizontal plate racks are a great option. Traditional weightlifting movements, including cleans, jerks, and snatches, are performed from the floor. Having the plates stored on the floor reduces travel distance and lets you conserve energy for when it matters the most: the actual lift.
The horizontal design also allows you to simply roll the weights out and onto the bar. This type of storage is ideal for bumper plates, and they should always include dividers for easy organization.
We recommend the REP Horizontal Plate Rack, which includes dividers, dual barbell storage, and wheels for easy transportation.
Rack-Mounted Plate Pegs
Depending on your rack and overall space, rack-mounted plate storage may be the best way to organize the plates in your home gym. Most 2×3 and 3×3 squat racks will offer plate peg attachments to store your plates directly on your rack. This is particularly common and recommended for 6-post racks and half racks. While you can store plates on a 4-post rack, keep in mind that you don't have as much room. The last thing you want to do while bench pressing is hit the plates and disrupt your bar path.
RELATED: Best Squat Racks
You may also find storage posts on some squat stands, like the REP PR-1000. These can be useful for organizing your plates while also providing more rack stability.
Since plate pegs will depend on what rack you own, check your respective rack manufacturer for add-on options. Some attachments are also cross-compatible based on the specs of your rack. For example, you can use Rogue Monster Plate Pins on the REP PR-5000 Power Rack.
Organize your Dumbbells
Storing your dumbbells can dramatically impact your home gym organization efforts. When you purchase a fixed set of dumbbells, say to 50lbs, it's uncommon for them to come with a storage rack. While you can organize your dumbbells on the floor, I recommend purchasing a dumbbell rack. This will make your home gym look much more professional and will make your training more efficient.
RELATED: Best Dumbbells
I recommend the REP Dumbbell Rack for most home gyms since it's affordable and compact.
If you own adjustable dumbbells, I would also recommend a storage rack. Again, it will look better, and it will make it much easier to change the weight.
Use Bins for Odds & Ends
A very underrated tool for home gym organization is a simple bin system. There are a lot of small pieces in my gym, including things like collars, wrist wraps, recovery gear, resistance bands, and more. Until I had bins, many of them didn't have a home. You can use these as a standalone organization option or in conjunction with pegboards to take it to the next level.
Bins can come as cubicle structures or as individual canvas bins that you can place on shelves you may already own. Either way, they're great for cleaning up unnecessary clutter that small items can create.
And if you're filming yourself lifting for social media content, nobody wants to see your stuff lying all over the floor.
Roll Away the Clutter
A rolling utility cart is another option for small items instead of a fixed set of cubbies. Because of its compact design, it doesn't take up much floor space, and you can wheel it around as needed.
Depending on your space requirements and the equipment you plan or organize, you can find carts of different sizes and weight capacities.
I like this KingRack 3-tier cart with an integrated pegboard if you're looking for something very simple and compact. This 500lb capacity cart is a solid choice if you need something more heavy-duty.
Use Your Ceiling
Ceiling storage can be a total game-changer, not just for gym equipment. If you have a home gym, you also have things not even gym-related contending for space – holiday decorations, seasonal items, and lawn equipment, and more.
If it doesn't have to stay on the ground, putting it on the ceiling is an excellent option, especially if you have adequate ceiling height and train in a garage.
I'd recommend non-gym items for ceiling organization since you likely won't have to access them as often. You can get some bulky items out of the way and really clear up some space to create an organized and efficient home gym.
FLEXIMOUNTS is the most well-known brand when it comes to ceiling storage systems. They mount directly to your joists, and they can hold up to 600lbs with various height levels.
Home Gym Organization Takeaways
Home gym organization is one of the best and easiest things you can do to transform your space and training. We provided 7 easy options that could be as elaborate as buying a storage rack for everything or as cheap as spending $6 on hanger hooks. No matter the route you take, there are options for every home gym owner at every budget.
A clean gym will give you more peace of mind when doing your workouts and create a space you can efficiently get in and out of.
So look at your setup and think, 'what can I take from above and apply in my own home gym?
Have tips and ideas of your own? Leave a comment below to let us know!
Why Should I Organize My Home Gym?

An organized home gym saves you time, creates a more enjoyable training experience, and protects your equipment. By de-cluttering and cleaning up your space, you also create a more professional-looking home gym that will serve you well for years to come.

Is Home Gym Organization Expensive?

You can organize your home gym for as little as $6 with steel storage hooks. There are dozens of ways to clean up clutter and maximize your space at very affordable prices. Hooks, pegboards, carts, and more are all available for budget organizers.

How Should I Organize My Home Gym?

The easiest way to organize your home gym is by getting things off your floor and onto your walls. Pegboards, bicycle hooks, etc… are great options to open up floor space and give you more room to train and add equipment.

What is the Best Home Gym Wall Organizer?

Wall Control is the best home gym wall organizer you can buy. This affordable, strong, and highly configurable metal pegboard is amazing for organizing home gym accessories and much more.